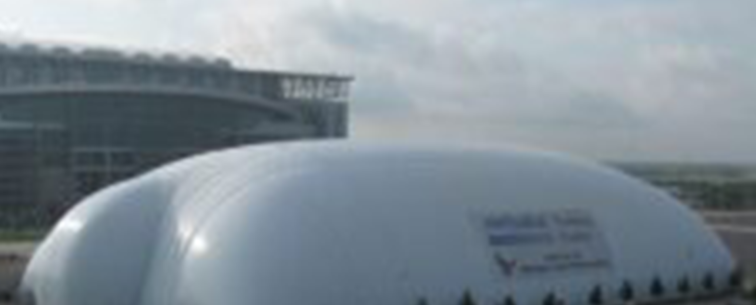 Company Serviced/Commercial Exterior Cleaning: Houston Texans Methodist Training Center
May 2008 – Exterior cleaning
We contacted the Houston Texans management after observing how clearly dirty the Methodist Training Center was just from the street.
They expressed an extreme interest in getting their air supported training facility cleaned, however, Yeadon Air Supported Structures (the manufacturer) had told them very clearly to NOT allow anyone to pressure wash the exterior. This was a perfect fit for our cleaning method since we do not use high pressure for cleaning, but rather a soft chemical wash and low-pressure rinse of only 400 psi.
We provided a demonstration of our cleaning process at no charge and included before and after pictures in the proposal.
November 2008 – Re-cleaned exterior & cleaned interior ceiling
During Hurricane Ike, September 2008, the Methodist Training facility was deflated by design to protect it from the storm. It was re-inflated, requiring yet another exterior cleaning of the structure because it had become dirty again from the storm.
In addition, the tiny rubber granules from the internal synthetic turf had stuck to the interior of the substrate wherever it had come in contact to the field. To clean this, we
had to sweep the ceiling of the interior with brooms so as not to damage the substrate. This required us to take a 125' boom lift on the inside of the facility.
Summer 2014 : Re-cleaned North Elevation and Interior
Because the Methodist Training facility is pressurized, some of the rubber granules in the synthetic turf become aerosolized and the lower walls had greasy-black soot on them. We cleaned the walls from the field up 30 feet with a degreaser and then rinsed. We had to have wet/dry vacuums to suck up this rinse water since there are no drains inside.